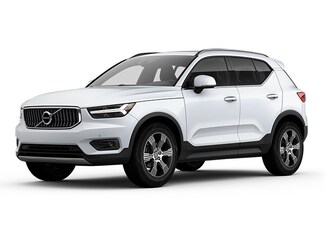 The Volvo XC40 is how you will smash the mold of the compact crossover SUV class. It's feature-packed beyond the competition, continues to rack up safety and design accolades, not to mention just being a flat-out blast to drive. Each XC40 is built on its own uniquely designed chassis, which puts you in control of how you want to attack your everyday commute. You can maximize comfort, sport, and touring, depending on which platform your XC40 rests on. The XC40 might be considered compact, but the features and benefits are nearly endless.
View Inventory
Volvo XC40 Financing
The Volvo XC40 is a compact SUV you can count on when it matters most. Enjoy power, precision, and pace when you grab the wheel of this safety-oriented yet stylish ride. We've broken down this durable SUV from every angle. Get the scoop on the SUV that can fit into the last parking spot, tow along ATVs or jet skis, and keep your passengers safe and sound. Families on the go won't have to stop for anything.
Big Power & Performance in a Smaller SUV
As you might expect, there are a couple of options under the hood of each Volvo XC40 trim level, providing plenty of power options inside a compact SUV that's not afraid to take on a challenge. Here's how the different XC40 models stack up in the important measurements of mass and brawn.
The T4 FWD Momentum and T4 FWD Inscription trims are powered by a two-liter turbocharged engine on FWD that produces 187 hp, 221 lb-ft of torque, and tows up to 3,500 lbs when properly equipped.1
The T5 AWD Momentum, T5 AWD R-Design, and T5 AWD Inscription are powered by a different two-liter four-cylinder turbocharged engine on AWD that produces 248 hp and 258 lb-ft of torque. It, too, hauls up to 3,500 lbs when properly equipped.1
If you're looking for an SUV that performs well at the bank and flies past the tank on long trips to great times all over your area, take note of the MPG figures on the 2022 Volvo XC40. The Volvo XC40 FWD models run at an EPA-estimated2 23 miles per gallon in the city, 32 miles per gallon on the highway, and 26 miles per gallon combined. The AWD trims run at an EPA-estimated2 22 miles per gallon in the city, 30 miles per gallon on the highway, and 25 miles per gallon combined.
If you find that fuel efficiency is one of your top priorities as you begin to evaluate various SUV models, consider the 2022 Volvo XC40 Recharge as well.
Room for Everything You Need
This car packs luxury leather seating and power-adjustable configurations into a car that's designed to get the most out of every inch of cargo space and passenger volume. Rear-seat riders will enjoy more than enough room to stretch their growing limbs, and folding down those rear seats leaves you plenty of room for laying small furniture such as desks and bookshelves, piling in practice gear after a long summer day, or stacking suitcases in excitement for a vacation that sits just over the horizon.
Is your car floor a messy smorgasbord of fruit snack wrappers and potato chip bits? The Volvo XC40 has a removable garbage bin located in the center console for easy cleanup, and the interiors of the various trims do not lack style, let alone durability when the grit and grime of good times in the outdoors come back for the ride home.
Additions & Upgrades On the 2022 Volvo XC40
In addition to the numerous customizable elements inherent in each of the trim levels, you can truly make your next Volvo XC40 all your own by selecting the following packages. Take your specifications to the top level, well beyond cool carpet colors.
Climate package: The climate package is available across the board, and it provides adjustable climate control in all areas of the cabin and heating to the steering wheel, windshield wiper blades, and rear seats. Shake the cold off of a frosty morning with the climate package.
Advanced package: The advanced package takes the standard suite of excellent driver assistance features and improves them even further, giving you a truly comprehensive set of cameras, alerts, and programs ready to help you at any moment. Enjoy adaptive cruise control with a semi-autonomous mode that feels like you're light years ahead in the future of travel with a wireless smartphone charging pad and a 360-degree surround-view camera that makes parallel parking nothing to fear.
Premium package: The premium package is only available on the Momentum trim, and it provides futuristic features that know where to go before you even tell them. You'll have retractable rear-view mirrors that pull in once you've pulled up, automatically dimming exterior mirrors, headrests that fold with a simple button press, an extremely helpful Blind Spot Information System (BLIS) that makes merging much less scary, and a hands-free power tailgate that will open up effortlessly when your arms are full.
Polestar Engineered Optimization: This racing-inspired performance boost is only available on the R-Design & Inscription trims, no surprise given the R-Design's competitive lineage and influence as well. Ask a staff member at your local Volvo Cars dealership about how this upgrade can impact where and when you and your loved ones can travel.
Active Chassis with air suspension: This package is only available on the R-Design & Inscription as well, and it affords the driver increased stability as they take on rocky roads and less stable environments.
Customization is just another way Volvo Cars stands out from the competition. In addition to the various packages available, choose the color your next SUV will wear as it shuffles through your to-do list and compare light and dark interiors and carpeting options that make for several startlingly good-looking color combinations.