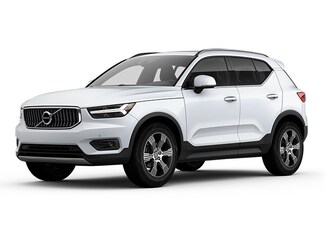 The Volvo XC40 is how you will smash the mold of the compact crossover SUV class. It's feature-packed beyond the competition, continues to rack up safety and design accolades, not to mention just being a flat-out blast to drive. Each XC40 is built on its own uniquely designed chassis, which puts you in control of how you want to attack your everyday commute. You can maximize comfort, sport, and touring, depending on which platform your XC40 rests on. The XC40 might be considered compact, but the features and benefits are nearly endless.
View Inventory
Volvo XC40 Financing
The Volvo XC40 is a compact SUV you can count on when it matters most. Enjoy power, precision, and pace when you grab the wheel of this safety-oriented yet stylish ride. We've broken down this durable SUV from every angle. Get the scoop on the SUV that can fit into the last parking spot, tow along ATVs or jet skis, and keep your passengers safe and sound. Families on the go won't have to stop for anything.
Big Power & Performance in a Smaller SUV
As you might expect, there are a couple of options under the hood of each Volvo XC40 trim level, providing plenty of power options inside a compact SUV that's not afraid to take on a challenge. Here's how the different XC40 models stack up in the important measurements of mass and brawn.
The T4 FWD Momentum and T4 FWD Inscription trims are powered by a two-liter turbocharged engine on FWD that produces 187 hp, 221 lb-ft of torque, and tows up to 3,500 lbs when properly equipped.1
The T5 AWD Momentum, T5 AWD R-Design, and T5 AWD Inscription are powered by a different two-liter four-cylinder turbocharged engine on AWD that produces 248 hp and 258 lb-ft of torque. It, too, hauls up to 3,500 lbs when properly equipped.1
If you're looking for an SUV that performs well at the bank and flies past the tank on long trips to great times all over your area, take note of the MPG figures on the 2022 Volvo XC40. The Volvo XC40 FWD models run at an EPA-estimated2 23 miles per gallon in the city, 32 miles per gallon on the highway, and 26 miles per gallon combined. The AWD trims run at an EPA-estimated2 22 miles per gallon in the city, 30 miles per gallon on the highway, and 25 miles per gallon combined.
If you find that fuel efficiency is one of your top priorities as you begin to evaluate various SUV models, consider the 2022 Volvo XC40 Recharge as well.
Room for Everything You Need
This car packs luxury leather seating and power-adjustable configurations into a car that's designed to get the most out of every inch of cargo space and passenger volume. Rear-seat riders will enjoy more than enough room to stretch their growing limbs, and folding down those rear seats leaves you plenty of room for laying small furniture such as desks and bookshelves, piling in practice gear after a long summer day, or stacking suitcases in excitement for a vacation that sits just over the horizon.
Is your car floor a messy smorgasbord of fruit snack wrappers and potato chip bits? The Volvo XC40 has a removable garbage bin located in the center console for easy cleanup, and the interiors of the various trims do not lack style, let alone durability when the grit and grime of good times in the outdoors come back for the ride home.
Additions & Upgrades On the 2022 Volvo XC40
In addition to the numerous customizable elements inherent in each of the trim levels, you can truly make your next Volvo XC40 all your own by selecting the following packages. Take your specifications to the top level, well beyond cool carpet colors.
Climate package: The climate package is available across the board, and it provides adjustable climate control in all areas of the cabin and heating to the steering wheel, windshield wiper blades, and rear seats. Shake the cold off of a frosty morning with the climate package.
Advanced package: The advanced package takes the standard suite of excellent driver assistance features and improves them even further, giving you a truly comprehensive set of cameras, alerts, and programs ready to help you at any moment. Enjoy adaptive cruise control with a semi-autonomous mode that feels like you're light years ahead in the future of travel with a wireless smartphone charging pad and a 360-degree surround-view camera that makes parallel parking nothing to fear.
Premium package: The premium package is only available on the Momentum trim, and it provides futuristic features that know where to go before you even tell them. You'll have retractable rear-view mirrors that pull in once you've pulled up, automatically dimming exterior mirrors, headrests that fold with a simple button press, an extremely helpful Blind Spot Information System (BLIS) that makes merging much less scary, and a hands-free power tailgate that will open up effortlessly when your arms are full.
Polestar Engineered Optimization: This racing-inspired performance boost is only available on the R-Design & Inscription trims, no surprise given the R-Design's competitive lineage and influence as well. Ask a staff member at your local Volvo Cars dealership about how this upgrade can impact where and when you and your loved ones can travel.
Active Chassis with air suspension: This package is only available on the R-Design & Inscription as well, and it affords the driver increased stability as they take on rocky roads and less stable environments.
Customization is just another way Volvo Cars stands out from the competition. In addition to the various packages available, choose the color your next SUV will wear as it shuffles through your to-do list and compare light and dark interiors and carpeting options that make for several startlingly good-looking color combinations.
Pure Volvo DNA. Evolved.
One glance at the XC40, and you instantly know what family it belongs to. Distinctive design is yours for the taking in a segment of stamped out copies of copies, of copies. From its excellent scalloped profile to opulent minimalism inside, the XC40 is undeniably luxurious. And unique. There are loads of ways to personalize your XC40 SUV with exciting options like:
Lava Red Carpets and Accents
Dynamic Contrast Roof Colors
Body Kits
Weather Packages
Tech Packages
Protection Packages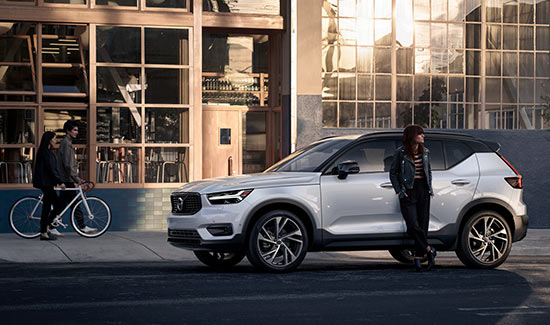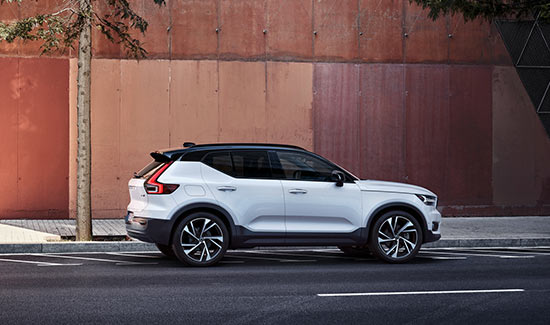 Driven To Be Dynamic
Nothing can prepare you for the thrill of instantaneous torque provided by 402HP in the EV Recharge XC40. With that kind of dynamic power, you can enjoy looking at most exotic sports-cars in your rear-view mirror while other drivers are yet to realize that the light has turned green. Fortunately, all XC40 SUVs are designed to inspire your drive and give you selectable tuning at the touch of a button. Optimize your drive on the fly with selectable Eco, Dynamic, Comfort, and off-road modes. There's even a configurable mode for you to optimize as you see fit. Insert your name into the blank: __________ mode is waiting.
A Premium Luxury Experience at Every Turn
From the whiplash prevention seating to the ingenious trunk configurations, the XC40 has it all. And the best part is that if you want more, you can have it. Why not add on semi-autonomous driving? 360 camera views? Wireless charging? High-level illumination? Enhanced hidden storage? The list goes on. While you're weighing your options, you can enjoy the confidence of Volvo On Call, a modern app that allows you to remote start, set climate temperature, track your vehicle, and more - right from your smartphone or smartwatch.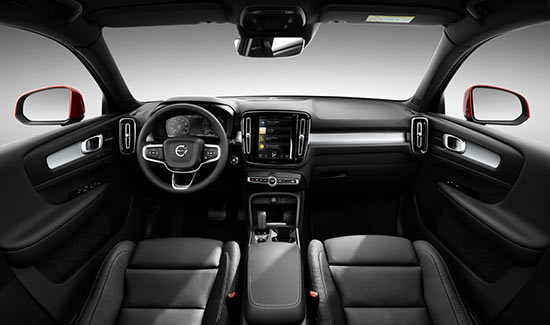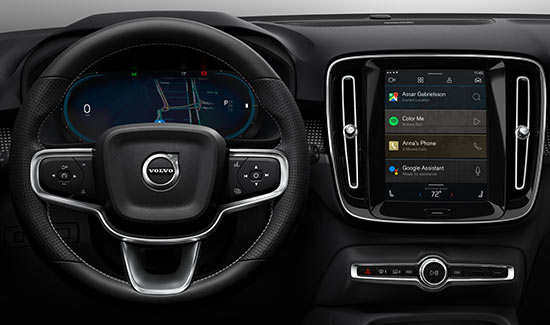 Lease Your XC40 From Volvo Cars of Tampa & Let the Adventure Begin
With your life as busy as it is here in Florida, you need a vehicle that can do it all and look fabulous while doing it. The XC40 ticks all those boxes and more. Thankfully, with an XC40 lease special from Volvo Cars of Tampa, you can have it all, conveniently! After you have browsed our inventory and found your favorite XC40, make sure to contact one of our Volvo leasing specialists to assist with making it yours. Be sure to ask about Volvo Valet and Volvo Assurance; exceptional enhancements to make every moment of ownership count.
Frequently Asked Questions About the Volvo XC40
What weight can a Volvo XC40 tow?
The 2022 Volvo XC40 maximum towing capacity is 3,500 pounds when properly equipped. That is a great capacity considering this is a compact SUV. If you plan on towing with your vehicle, please make sure you get all of the necessary equipment to make sure you and your belongings remain safe. Our service department can help with any towing parts needs or questions that you have.
Can a Volvo XC40 tow a trailer?
Yes, she can! There are several compact trailers that weigh less than 3,500 pounds. When buying a trailer (or if you already have one), please make sure that it is less than your maximum towing capacity so that you can remain safe. If you need trailer hitches, please see our parts department.
Does the Volvo XC40 have AWD?
The T4 powertrain only comes with front-wheel drive. But, the T5 powertrain comes standard with all-wheel drive as well as a 248-horsepower turbocharged engine. If getting added traction and grip is important to you, make sure you opt for the T5 powertrain to take advantage of all-wheel-drive technology.
Volvo XC40 vs. The Competition
The Volvo XC40 stands strong when faced with quality competition from the industry stalwarts that have hogged the luxury car categories in years past. But with a sweet suite of driver-assistance features, unique style, and substance you can actually use for storage and stowing throughout the cabin, the 2022 Volvo XC40 holds its own. Compare this charismatic combination of comfort that's built to take a beating, useful power, and all the ways you can make your SUV truly feel yours to the BMW X3, Audi Q5, and Lexus NX. We're confident that this compact SUV cruiser with a cavernous cabin will be the last one standing day in and day out.
New Volvo XC40 Comparison
| | | | | |
| --- | --- | --- | --- | --- |
| | 2021 Volvo XC40 | 2021 Lexus NX | 2021 BMW X3 | 2021 Audi Q3 |
| Base MSRP | $33,700 | $38,535 | $43,000 | $37,095 |
| Panoramic Sunroof | $1,387 | $2,630 | $1,850 | Standard |
| Remote Engine Start | Standard | Standard | Not Available | Not Available |
| SiriusXM | Standard | Not Available | Standard | $1,700 |
| 12.3" DIM | Standard | Not Available | Not Available | $2,600 |
| Lane Departure Warning | Standard | Standard | Standard | Standard |
| Driver Attention Alert | Standard | Not Available | Not Available | Standard |
| Post Collision Brake Assist | Standard | Standard | Standard | Standard |
| Auto-Highbeam | Standard | Standard | $7,100 | Standard |
| Length | 174.2 | 182.7 | 185.9 | 176.6 |
| Height | 65.3 | 64.8 | 66.0 | 62.9 |
| Width | 80.1 / 73.3 | N/A / 73.6 | 84.1 / 74.4 | 80.1 / 72.8 |
| Wheelbase | 106.4 | 104.7 | 112.8 | 105.5 |
| Headroom (F/R) | 39.0 / 39.1 | 38.2 / 38.1 | 41.1 / 39.1 | 39.6 / 37.6 |
| Legroom (F/R) | 40.9 / 36.1 | 42.8 / 36.1 | 40.3 / 36.4 | 40.0 / 36.1 |
| Shoulder Room (F/R) | 56.7 / 56.3 | 57.3 / 55.3 | 57.6 / 56.0 | 56.7 / 55.1 |
| Curb Weight | 3,574 | 3,940 | 3,931 | 3,916 |
| MPG (City/Hwy/Combined) | 23 / 32 / 26 | 22 / 28 / 25 | 25 / 29 / 27 | 20 / 28 / 23 |
More Volvo Cars For Sale & Lease Deals In South Florida:
1When properly equipped. See owner's manual for more information.
2EPA estimates only. Actual mileage may vary.