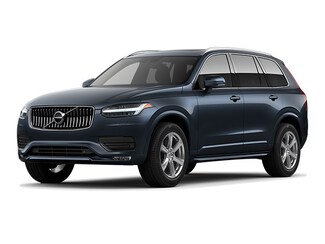 The Volvo XC90 is the ultimate Volvo for your growing family as you tackle everything that Florida has to offer. Incredible prowess on the road - or off - gives you a sense of confidence that can only come from an XC90. Stunning materials wrap your interior, and there is even a drive selector made from Orrefors Crystal to enhance your first-class cabin. Of course, the XC90 may be best known for its 3rd-row seating but did you know you can configure the middle row to have captain's chairs or bench seating? The XC90 SUVs potential is virtually unlimited. Read on to explore everything that this world-class vehicle has to offer.
View Inventory
Volvo XC90 Financing
Power & Performance Specs
Why go with a car that offers one engine, one drivetrain, and one transmission when you could go with the 2022 Volvo XC90, which offers you three different powertrain packages so that you can drive anywhere on your terms. Let's explore the world of Volvo XC90 powertrains.
The first powertrain is a T5 FWD, which is the standard choice. It gets up to 250 horsepower and 258 pound-feet of torque. That torque is important, as it allows the Volvo XC90 T5 FWD to have a max towing capacity of 4,000 lbs. when properly equipped. This powertrain also has an 18.8-gallon fuel tank and gets up to an EPA-estimated 30 MPG on the highway.1
The next powertrain is the T5 AWD, which can be yours for an added $2,500. Its horsepower numbers and torque are the exact same as the T5 FWD powertrain, with 250 horsepower and 258 pound-feet of torque. It also has a max towing capacity of 4,000 lbs. when properly equipped. The highway fuel efficiency for the T5 AWD is an EPA-estimated 28 mpg,1 just shy of the previous powertrain's 30 mpg.
The final powertrain package for the Volvo XC90 kicks it up a notch with a T6 AWD. Almost everything is increased with this package. For an extra $7,950, you'll get 316 horsepower and 295 pound-feet of torque. That improved torque also means an improved max towing capacity of 5,000 lbs. when properly equipped. Where the other two powertrains have a zero to 60 time of 7.9 seconds, the T6 can go 0-60 in just 6.1 seconds. It also retains the same highway fuel economy as the T5 AWD.
Interior Features & Cargo
The Volvo XC90 doesn't just boast powerful engine specs. It can also proudly proclaim its roomy cabin and cargo space. The 2022 Volvo XC90 comes standard as a seven-seater, but you can choose to split the second row up, giving you six seats, for an extra $8,450. Speaking of that third row, the Volvo XC90 is the only SUV in the Volvo vehicle lineup to include a third row, making it a true gem amongst its kind.
In the Volvo XC90, you're looking at a whopping 85.7 cubic feet of cargo capacity at max. If all your rear seats are up and occupied, you'll still get 15.8 cubic feet of storage space behind the third row.
Design the interior of the Volvo XC90 to match the mood you want to feel while you're in the car with your choice of three interior colors in the R-Design and Momentum trims. You can go with dark Charcoal Leather, glossy Maroon Brown Leather, or bright Blond Leather. If you go with the Inscription trim, your interior color choices are doubled for six total options, most of which come in Nappa leather. On the Inscription, you can choose from
Midnight Zinc Wool Blend
Charcoal Perforated Nappa Leather
Amber Perforated Nappa Leather
Maroon Brown Perforated Nappa Leather
Slate Perforated Nappa Leather
Blond Perforated Nappa Leather
Additions & Upgrades
The Volvo XC90 doesn't just stop at standard features. Stand out even more with a plethora of upgrades and additions that you can tack onto your Volvo XC90 for great prices. Packages, engineering upgrades, and optimization are all yours for the taking, so let's take a look at what the Volvo XC90 additions have in store for you.
Climate Package ($750): This package adds on appointments to keep you comfortable in the coldest weather conditions. The standard options include a heated steering wheel, heated windshield wiper blades, and even heated rear seats to warm up the kiddos in the back.


Advanced Package ($1,500): The Advanced Package adds on cutting-edge tech to enhance your every drive, even if that drive is the commute you take to work every single day. Standard options in this package include a 360-degree view surround camera and a graphical head-up display, which shows vital information and hovers at around six feet in front of the vehicle, so you never have to turn your face or eyes away from the road.


Lounge Package ($1,700): The Lounge Package gives you the most comfortable additions that you can melt in every time you take a seat in your Volvo XC90. Standard appointments here include Nubuck headliners and luxurious backrest massaging front seats.


Polestar Performance Upgrade ($1,295): The Polestar Performance upgrade optimizes the most crucial elements of your Volvo XC90 for an even more efficient and exciting drive. It takes the performance of your Volvo XC90 to the next level of power.


Four-Corner Air Suspension Upgrade ($1,800): Add even more of a dynamic flair to the Volvo XC90 with the four-corner air suspension. The Four-C technology maintains your riding height no matter what surface you're driving on, giving you a smooth and comfortable ride anywhere. It also reduces drag, enhancing high-speed control and stability while lowering fuel consumption.


Bowers & Wilkins Premium Sound Upgrade ($3,000): This one is self-explanatory. If you want crystal clear sound quality through booming speakers, this is the upgrade for you. Experience your favorite tunes for the first time again thanks to Bowers & Wilkins.
Life Can Be Tough. The XC90 Can Help.
With everything going on in your day, wouldn't it be nice to have a little help? A personal assistant to carry your belongings, anticipate your needs and do what they're there to do with precise execution. The XC90 can do that. And more. Your cabin is your sanctuary with ambient acoustic controls - yours to enjoy if you ever have a moment to yourself. Regardless, you can ask your XC90 to do even more for you, like provide:
Semi-autonomous driving
Glove-box refrigeration
Air suspension
Audio upgrades
Configurable massage front seating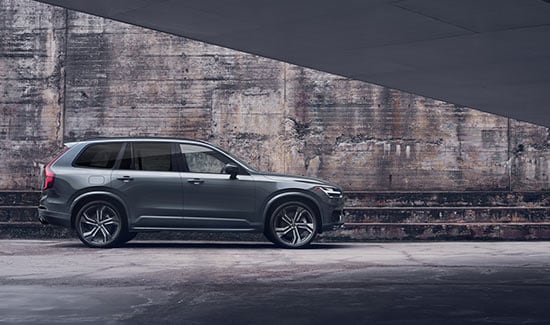 Built for the Love of the Drive
Your XC90 is precision tuned to deliver maximum performance while being mindful of the resources required to deliver on power. You can have a say in your XC90 SUVs responsiveness with driving modes that you can configure on the fly, including Eco, Dynamic, Comfort, Off-Road, and a specialized mode that you can preset for your own tastes. All configurations take advantage of the Volvo 8-speed Geartronic automatic transmission for spirited driving from the market and back while providing confident cruising on the highway.
Intuitive Technology at Your Command
Imagine a world where you can pack up from the beach, and arrive at your Volvo vehicle with her running, cooled down inside, and ready to go. That world exists, and it's yours to enjoy through the Volvo On Call App. A smart feature that connects you to your vehicle and allows you to control a host of functions from the convenience of your smartphone or smartwatch. Additionally, in-car technology includes intelligent speech command for things like radio, climate, and navigation. Of course, you'll enjoy all the benefits of Apple CarPlay and Android Auto with Siri or Alexa, ready and waiting to assist.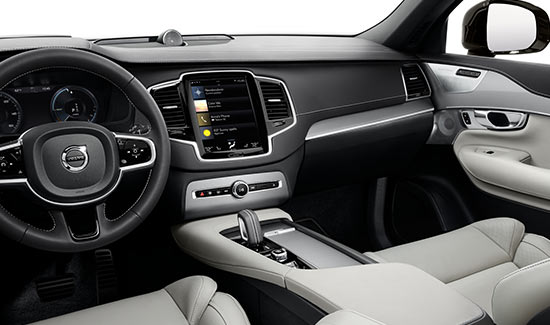 Leasing Made Easy. Only at Volvo Cars of Tampa.
Volvo Cars of Tampa has a proud tradition of transparency, enthusiasm, and efficiency. We can't wait to show you the difference that the right dealership can make and encourage you to explore our lineup, and then contact a Volvo leasing specialist. That can help secure your XC90 lease deal, assist with additional questions, and even deliver her to your door. Be sure to ask about the full list of Volvo Valet and Volvo Assurance benefits. We look forward to seeing you soon!
Volvo XC90 vs. the Competition
There really isn't much competition between the Volvo XC90 and other similar SUVs, but we'll humor you. The Volvo XC90, as you can see in the chart below, offers more impressive specs and standard features than the likes of the Mercedes GLE, BMW X5, and Audi Q7. For example, Driver Attention Alert is standard on the Volvo XC90, meaning you don't have to pay a penny extra for it. On the Mercedes and BMW, you have to pay nearly $2,000 extra for safety, and the feature is not even available on the Audi. The Volvo XC90 also offers the best fuel economy numbers of these models, beating their highway MPG by as much as four MPG, which can make a huge difference on those long drives.
We can't forget to mention the difference in price. The Volvo XC90 costs more than $5,000 less than the next closest competitor of the three previously-mentioned models. When you compare that price to all the extra features and specs you get on the Volvo XC90 that you don't get (or have to pay thousands extra for) on the others, the answer to which car you should focus on becomes pretty clear. The Volvo XC90 is the winner of that battle every single day!
Frequently Asked Questions About the Volvo XC90
Does Volvo XC90 have an air suspension?
The Volvo XC90 does not come standard with this system, but it can be added. Air suspension is a great way to get a more comfortable and customized side. You can adjust your vehicle to make her higher or lower to the ground to help you with different road or weather conditions. Air suspension adapts to the selected drive mode and vehicle speed and can help reduce air resistance and increase stability. If you are very hands-on and like to customize your ride, air suspension is a cool option.
How many airbags does a Volvo XC90 have?
Volvo Cars will always prioritize safety. There are a total of eight airbags to keep everyone in your vehicle protected. There are two-stage airbags for the driver and front passenger, front side airbags, side head airbags, and side rear airbags.
Are the Volvo XC90 models expensive to maintain?
Not more than any other vehicle. Other luxury cars have far more expensive parts than the Volvo XC90. Our best advice is to make sure that you keep up with maintenance and service. By doing that, you will make sure your car drives safely to avoid any costly repairs down the line.
New Volvo XC90 Comparison
| | | | | |
| --- | --- | --- | --- | --- |
| | 2021 Volvo XC90 | 2021 Mercedes GLE 350 | 2021 BMW X5 | 2021 Audi Q7 |
| Base MSRP | $49,000 | $54,750 | $60,395 | $56,045 |
| Panoramic Sunroof | Standard | Standard | Standard | Standard |
| Remote Engine Start | Standard | Standard | Standard | Not Available |
| SiriusXM | Standard | Standard | Standard | Standard |
| 12.3" DIM | Standard | Standard | Standard | Standard |
| Lane Departure Warning | Standard | Standard | Standard | Standard |
| Driver Attention Alert | Standard | $1,950 | $1,700 | Not Available |
| Post Collision Brake Assist | Standard | Standard | Standard | Standard |
| Auto-Highbeam | Standard | Standard | Standard | Standard |
| Length | 194.9 | 194.3 | 194.3 | 199.3 |
| Height | 69.9 | 70.7 | 68.7 | 68.5 |
| Width | 84.3 / 79.1 | 84.9 / 76.7 | 87.3 / 78.9 | 87.1 / 77.6 |
| Wheelbase | 117.5 | 117.9 | 117.1 | 117.9 |
| Headroom (F/R) | 38.9 / 38.5 | 40.5 / 39.6 | 40.8 / 38.7 | 39.9 / 38.8 |
| Legroom (F/R) | 40.9 / 37.0 | 40.3 / 40.9 | 39.8 / 37.4 | 41.7 / 38.8 |
| Shoulder Room (F/R) | 57.7 / 56.5 | 59.3 / 58.3 | 60.0 / 58.1 | 59.5 / 58.5 |
| Curb Weight | 4,374 | 4,608 | 4,828 | 4,784 |
| MPG (City/Hwy/Combined) | 21 / 30 / 25 | 19 / 26 / 22 | 21 / 26 / 23 | 19 / 23 / 21 |
More Volvo Cars For Sale & Lease Deals In South Florida:
1EPA estimates only. Actual mileage may vary.