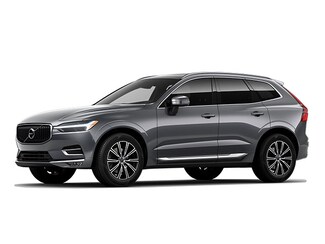 The Volvo XC60 is an incredible way to treat your modern family to luxury and safety while on the go. The XC60 is packed with features and amenities that make every moment behind the wheel a real pleasure. With trim-levels, powertrains, and options available to suit every driver, taste, and budget, it wouldn't surprise us one bit if you ended up calling your new XC60 family vehicle, your latest family member!
View Inventory
Volvo XC60 Financing
Powerful Performance
When you get a Volvo XC60, you don't just get stuck with any 'ole powertrain. You get to choose exactly what you want to impress drivers on every freeway and feeder road you travel. All trims give you the option of three powertrains. The standard is a T5 FWD that gets 250 horsepower and 258 pound-feet of torque. With this powerful powertrain, you get a max 3,500-pound towing capacity, when properly equipped, and up to an estimated 29 MPG on the highway,1 according to the EPA. How's that for "standard?"
No matter which trim you get, you can also level up to either of the following powertrains: the T5 AWD or T6 AWD. The T5 AWD on the 2022 Volvo XC60 provides similar numbers as the base powertrain with a drivetrain that's even more in tune with your daily driving habits and conditions. This powertrain gets 250 horsepower and 258-pound feet of torque, which you'll notice is exactly the same as the previous options. She also has the exact same max towing capacity. She gets one less MPG on the highway, seeing as she has to send extra torque to the wheels for the AWD drivetrain. However, for such advanced power and an incredibly capable drivetrain, we think that singular MPG sacrifice to 28 MPG on the highway1 is worth it.
The final powertrain, as we've mentioned, is the T6 AWD. Everything about this drivetrain is increased - except her 0-60 time, that is! She has the lowest offering of 5.9 seconds as opposed to the prior powertrains' 6.4 seconds and 6.9 seconds, respectively. As a T6, of course she is going to offer the most impressive horsepower and torque of the lot. She will give you an exhilarating ride every time with a maximum 316 horsepower and 295 pound-feet of torque. She also gets that same max towing capacity of 3,500 pounds when properly equipped. Plus, her estimated MPG numbers are plenty impressive at up to 27 MPG on the highway.1
Now Including: An Even More Exciting Interior
It wouldn't be a Volvo car if the interior didn't find itself with upgrades for the new model year. Everything is bigger, more beautiful, and even more sleek than ever before. There are tons of colors and several materials you can choose from to match your Volvo XC60 to your own style. Textile blends, wool blends, leather, and ventilated Nappa leather are all waiting for you inside the Volvo XC60. Depending on the trim, you could see the following color and material combinations:
Blond City Weave Textile
Charcoal Leather
Maroon Brown Leather
Blond Leather
Midnight Zinc Wool Blend
Charcoal Perforated Nappa Leather
Amber Perforated Nappa Leather
Maroon Brown Nappa Leather
Blond Perforated Nappa Leather
Charcoal Nappa Leather & Open Grid Textile
Slate Nappa Leather & Open Grid Textile
On your 2022 Volvo XC60, you'll see all the interior features, cargo options, and add-ons you could ever hope for. You can seat five people in the incredibly spacious cabin, and they'll all be comfortable with the two-zone climate system. The driver and passenger also have great options, too, with comfort front seats, power-operated two-way lumbar support, a power passenger's seat, and a power-operated driver's seat with a memory function.
Do you desperately need a little space? You've got it. Did you know you can fold the rear seats on the Volvo XC60? Yep! And with those out of the way, you can get up to 63.3 cubic feet of space to do with whatever you want! Behind the rear seat, you still get plenty of wiggle room at 22.4 cubic feet of space. Other exciting interior features include a 12-inch instrument panel, voice control, dark tinted rear windows, a park assist camera, rain-sensing windshield wipers, and high-performance audio.
Additions and Upgrades and More, Oh, My!
Have some extra money to spare to make your ride even more dynamic? Volvo Cars has options for you in the Volvo XC60. From tech to styling and more, there is a package that will perfectly suit your tastes and the money that's burning a hole in your wallet.
Climate Package: This package is available on all trims and adds on heated windshield wipers, a heated steering wheel, and heated rear seats for only $750 extra.


Advanced Package: This package is also available across the trim lineup. It adds a 360-degree surround-view camera, pilot driver assist, adaptive cruise control, a graphical head-up display, a 12V power outlet for the luggage area, and inductive smartphone charging. It can all be yours for only $1,900.


Premium Package: Want some of the highest-level additions? Go with the Momentum trim and add on the Premium Package for $1,700. You'll get many add-ons like Sensus navigation, power-folding rear head restraints, front park assist, a rear-view mirror compass, and a HomeLink™ garage door transmitter.


Polestar Engineered Optimization: Power like you've never seen it before is awaiting you on the R-Design and Inscription trims. Just $1,250 will get you maximum optimization for your Volvo XC60 for the most balanced, precision-handling machine you've ever been behind the wheel of.


Four-Corner Air Suspension: If you go with the R-Design or Inscription trims, you can add advanced air suspension onto your Volvo XC60 for $1,800. The Four-C technology refines your drive and makes sure you maintain the perfect riding height no matter how intense road conditions get. Your shock absorber will take the heat and maintain a smooth and even ride that you won't be able to get enough of.
Innovative Design. Recognized Worldwide.
The XC60 has quite the collection of awards on its shelf. While we don't like to brag, all of these accomplishments go into making sure that you have the most exceptional driving experience possible. Your front seats are designed to prevent whiplash. Your rear seats can have deployable boosters for your smaller passengers. And no need to worry about the constant barrage of kicks to your backrest. Volvo has thought of that, too, and the forward seats are designed to maximize your comfort - as well as rear legroom. Of course, you can take your comfort levels to the extreme with features like:
Lifestyle Packages
Audio Upgrade Packages
Tech Packages
Convenience Packages
Weather Packages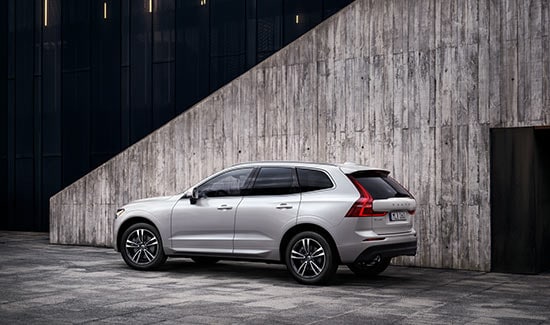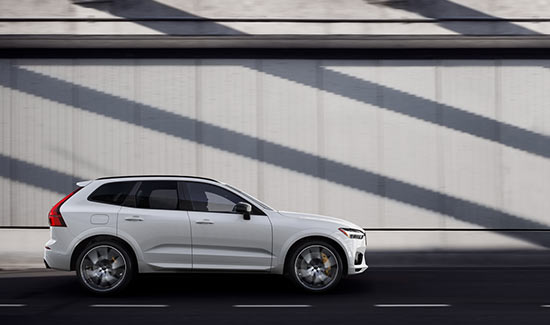 From School Pick-Up, To Get-Up & Go
All powertrain configurations are paired to the Volvo 8-speed Geartronic automatic transmission. Especially designed for quick shifting around town, this unit also provides effortless cruising and passing while on the freeways. Of course, you can specialize things depending on your trim-level. You should expect to find exciting features like tunable suspension, selectable driving modes (including a mode to customize just for you), and specialized chassis, unique to your selected trim, which can enhance agility, comfort, sport-driving, or a balance of them all.
Luxury for Every Passenger
Luxury should be convenient. And it should also be comforting. With your XC60, you can have both! Select from a sumptuous variety of leather surfaces and even two handsome woven-wool seating surfaces that are throwbacks to early Volvo design, with enhancements that make each one entirely at home in the modern world. You can experience WiFi, ample power ports for device charging, 2-zone climate, CleanZone filtration, and unrestricted sky views. Other additional features include semi-autonomous driving and a heads up display.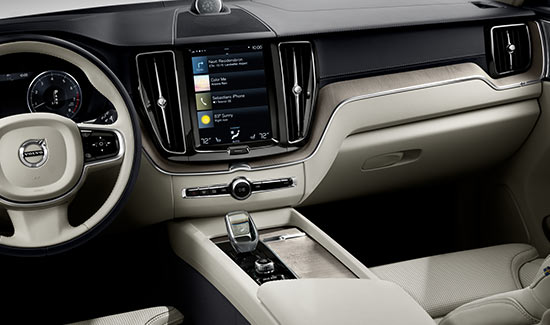 Leasing Options That Make Life Simple
Not everyone can have a Volvo, and you've chosen wisely. The XC60 is distinctive and refined. Just like you. It's ready for anything, assertive and subtle. Just like you. It can anticipate danger, avoid harm, and keep your family protected. Just like you. And now, exclusively from Volvo Cars of Tampa, you can get an XC60 lease deal that is also smart. Just like you. Once you have chosen your favorite example from our online inventory, make sure to contact one of our Volvo SUV leasing specialists to help you bring yours home. Be sure to ask about Volvo Valet and Volvo Assurance, which enhance your ownership experience in so many ways!
Frequently Asked Questions About the Volvo XC60
What is the Volvo XC60 R-Design?
The Volvo XC60 R-Design is one of the variants of this midsize SUV. We like to say that the R-Design is the sporty and performance-inspired version of the Volvo XC60. She comes with an advanced sport chassis, front sport seats, and unique R-Design badging. In addition to all of the standard features on the base model, she also adds leather upholstery, quad-zone automatic climate control, heated seats, a 14-speaker Harman Kardon sound system, and more.
What are the different models of the Volvo XC60?
There are three powertrain configurations and four trim levels on the Volvo XC60. For your powertrain, you can get the T5, the T6 (the T6 being more powerful), or the T8 plug-in hybrid variant. As far as trim levels go, they are the Momentum, R-Design, Inscription, and Polestar Engineered. They all have many similarities, but some focus on sportiness while others focus on luxury elements. You can explore each one at our dealership.
Is the Volvo XC60 worth the money?
The Volvo XC60 is considerably well-priced given the amount that you get for your money. The Volvo XC60 comes with far more standard features than other luxury SUVs in the sector. She is efficient, powerful, safe, versatile, spacious, and capable. We think the price is well worth it.
The Competition Can't Hope to Stack Up
You're probably familiar with some of the heavy-hitters in the same class as the 2022 Volvo XC60. The likes of the Audi Q5, BMW X3, and Lexus RX 350 try with all their might to overtake the prowess of the Volvo XC60, but they can't compete. For a lower overall price, the Volvo XC60 offers tons of standard features that aren't even available on those models - or you have to pay hundreds or thousands extra for them. Some of these include a panoramic sunroof, remote engine start, a 12.3-inch DIM, and driver attention alert. You'll also get more legroom, which we know your passengers will greatly appreciate.
Volvo Cars has a legacy unmatched by these other makes. Its legacy is steeped in driver-centric features that are provided for little or, usually, no extra cost. Volvo Cars believes that you shouldn't have to pay tons extra for some of the greatest, and in some cases even life-saving, features available. That's why they offer the Volvo XC60 at a lower price than all of her major competitors while still providing more options than they could ever hope to. The 2022 Volvo XC60 is the SUV that you need to have in your life.
1EPA estimates only. Actual mileage may vary.
---
| | | | | |
| --- | --- | --- | --- | --- |
| | 2021 Volvo XC60 | 2021 Audi Q5 | 2021 BMW X3 | 2021 Lexus RX 350 |
| Base MSRP | $41,700 | $44,395 | $43,000 | $46,095 |
| Panoramic Sunroof | Standard | $1,450 | $1,850 | Not Available |
| Remote Engine Start | Standard | Not Available | Not Available | Standard |
| SiriusXM | Standard | $1,100 | Standard | Not Available |
| 12.3" DIM | Standard | $3,600 | Not Available | $800 |
| Lane Departure Warning | Standard | Standard | Standard | Standard |
| Driver Attention Alert | Standard | Not Available | Not Available | Not Available |
| Post Collision Brake Assist | Standard | Standard | Standard | Standard |
| Auto-Highbeam | Standard | Standard | $7,100 | Standard |
| Length | 184.6 | 183.6 | 185.9 | 192.5 |
| Height | 65.3 | 65.3 | 66.0 | 67.7 |
| Width | 83.3 / 74.9 | 84.2 / 74.5 | 84.1 / 74.4 | 85.8 / 74.6 |
| Wheelbase | 112.8 | 111.0 | 112.8 | 109.8 |
| Headroom (F/R) | 38.0 / 38.0 | 41.7 / 39.3 | 41.1 / 39.1 | 39.4 / 39.1 |
| Legroom (F/R) | 41.5 / 38.0 | 41.0 / 37.8 | 40.3 / 36.4 | 44.1 / 38.0 |
| Shoulder Room (F/R) | 58.2 / 56.3 | 57.7 / 56.5 | 57.6 / 56.0 | 57.8 / 57.6 |
| Curb Weight | 4,008 | 4,045 | 3,931 | 4,222 |
| MPG (City/Hwy/Combined) | 22 / 29 / 25 | 23 / 28 / 25 | 25 / 29 / 27 | 20 / 27 / 23 |
More Volvo Cars For Sale & Lease Deals In South Florida: